A couple months back we stumbled upon an award-winning documentary produced by Josh Izenburg titled Slomo. Slomo chronicles the life of John Kitten, a man who left a successful medical practice for a simple existence slowly gliding down San Diego's Pacific Beach boardwalk on a pair of trusty roller blades. John, who is now known only as Slomo, has spent every day of the last 16 years perfecting his unusual signature skating style and has grown into a folk hero and local legend.
We were blown away after watching the documentary and shot an email over to Josh expressing our kudos. It turns out he is also a big Onewheel fan, and after an impressive demo session at our shop, he connected us with the man, the myth, the legend, Slomo.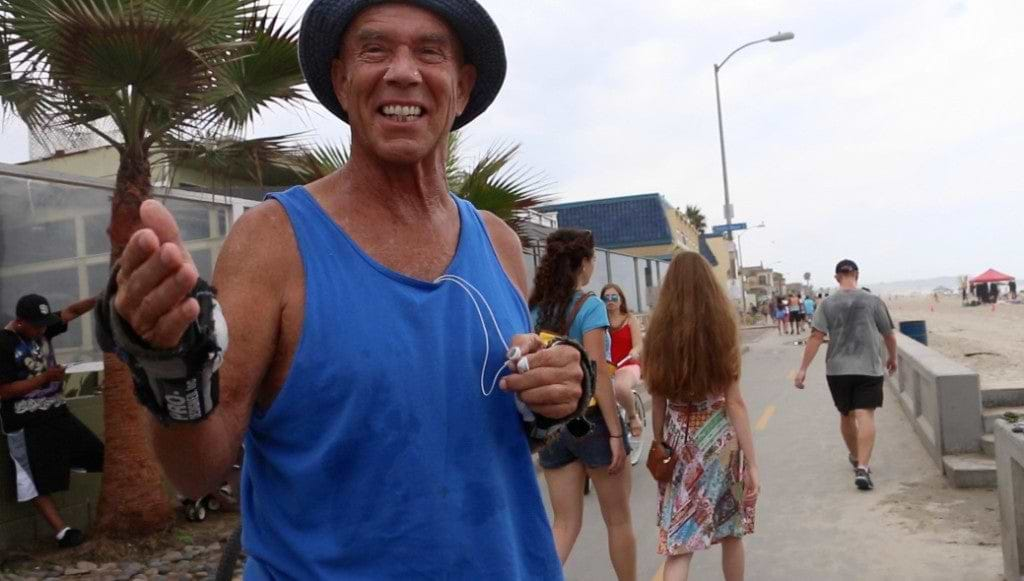 We met Slomo on the Pacific Beach boardwalk after a long morning shooting video footage at dawn. Honestly, we were star struck and needed a moment to collect ourselves as he came into view, clad in his classic blue tank top, fishing cap, and of course, skates. Amidst the crowded boardwalk he barely saw the board rolling up, we got off as he examined it with considerable interest, enthusiasm, and admiration.  He began expressing his desire to go for a ride and then launched into a 45 minute introduction to his gliding philosophy.
"This is all an art," Slomo explained of his roller blading, in a slow pensive southern drawl, "it's not a sport. When I say its an art I mean its done inside yourself (pointing to his head), a sport is done out here (pointing towards the street)"
Slomo explained that there is something about the feeling of acceleration that people love, so much in fact that it has the power to change them (check out the documentary for the scientific explanation). It's the reason we jump out of airplanes, become ski bums, or wait in absurdly long lines to get on roller coasters. The problem is that the euphoric experience ends with the inevitable deceleration.
Accordingly, Slomo has created his skating technique around perpetual motion. It has a way of locking him into the present allowing him to enter a state of acute awareness and heightened consciousness; it is a form of meditation.
"We worship the same god, this is a type of worship, and what this machine is, is one more way to get you into this type of worship."
Finally Slomo turned on his music, a Wagner sounding composition which he made himself, froze instantly in a heroic pose, eyes staring into the future, and took off, very, very, slowly. At that moment I rushed to turn on the board, hurriedly stepped onto it and….. nothing. Dead.
I could not believe it. After 45 minutes of sermon we had reached a spiritual riding crescendo; the moment was here and there was Slomo gliding on down the boardwalk without us.
He circled back and noted the problem with an understanding chuckle. Even without our tandem ride, we did not feel cheated in the least, we had gotten so much more than we could have ever expected from this mercurial character.
After another 15 minutes on life, love, philosophy and spirituality, and just before we went our separate ways, I tried the board one last time. To our amazement it worked, resurrected from the dead by the power of Slomo. We had a quick ride, he gave an admiring look, as one does when a grandchild takes its first steps and we said our goodbyes.
Our time with Slomo was an absolute privilege, and completely surreal. We are planning our next riding session, this time with a charged board…