American born, Japanese chef Jacob Kear has never been afraid to stand out. On the surface, his long hair and scruffy mane render a doppelganger of Jason Momoa, standing a head taller than most residents in his current hometown of Kyoto, Japan, and even more when he's riding his Onewheel, which is much of the time. Beneath the surface, Kear's a culinary savant known to transform ordinary dishes into one-of-a-kind, artistic masterpieces. Unlike most chefs, he forages wild ingredients himself from the mountains around Kyoto, and he uses his Onewheel to do it. Kear's individuality is well-rewarded—his restaurant, LURRA° ,  earned its first Michelin Star earlier this year, and Kear's rounding 2021 with sights set on a second. We caught up with him to find out more about his stand-out pursuit, and how Onewheel is helping him realize the dream. – Mike Misselwitz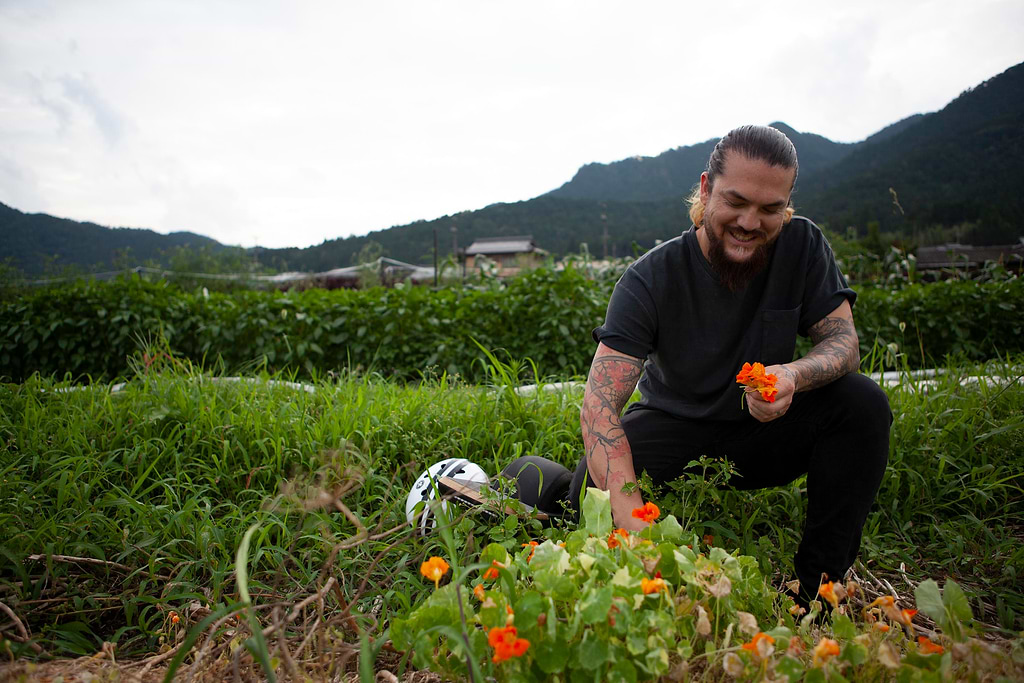 What does the life path of a Michelin Star chef look like?
I was born in the US and started cooking when I was seven. I worked in a pizzeria growing up, back when I needed a special permit to work as a minor. In 2002 I graduated with high honors from Le Cordon Bleu academy and got a job at the Ritz-Carlton in Dana Point, CA, where I worked an ungodly amount and still couldn't pay rent. It was a turning point—I almost quit cooking altogether—but a couple years later I was invited to participate in a Japanese cooking competition, and I won! That turned into guest appearances on Japanese TV and in magazines, which really exposed my work.
In 2006 I helped open a restaurant in Korea, and then moved to Japan to work for a Michelin Star restaurant at the Mandarin Oriental hotel. Later I had the opportunity to spend some time at NOMA in Copenhagen, the world's top-rated restaurant at the time. NOMA forced me to completely rethink my methods and set a new bar of excellence that I'd later model with my own restaurant. It also reminded me about the times I spent foraging with my grandparents as a kid, which inspired a lot of what I do now.
In 2019 I opened my dream restaurant—LURRA°—in Kyoto, Japan with two other guys, Miyashita Takumi and Yusuke Sakabe, who shared my dream of achieving a star or two within our first year of opening. On October 8, 2020, we were awarded our first Michelin Star. Now we're going for the second.
What role does foraging play in your food?
Foraging is the backbone of the food I make, and I find a lot of edible goodies in the wild to play with. Some of my favorites are "wood sorrels" or Oxalis. They have a great crunch and everything from the stems to the flower is edible. Spending time foraging gives me inspiration to create new dishes as well. The wild is an extension to creativity.
How does Onewheel help with your work?
I ride the Onewheel for my 15-minute commute to the restaurant every day. I also use it a lot to get around the mountains when I'm foraging. The Onewheel is a perfect tool for this because it helps me see things differently than I do in a car, and I can get to places that a car can't. 
What's it like to ride a Onewheel in a small city like Kyoto?
It's awesome, especially in Kyoto where things are so compact. I can literally ride my Pint across the city if I want to. It makes the commute way more fun, and riding through the historic areas gives me a sense of Zen like no other. I ride it every day except for when it rains.
What reactions does the Onewheel get from locals?
The Japanese people already think I'm Jason Momoa, and when I ride with my hair down people literally snap pictures, haha! It's flattering. One time a bunch of middle school kids chased me down the street asking for an autograph. Onewheel definitely turns heads here, probably more than Lamborghinis.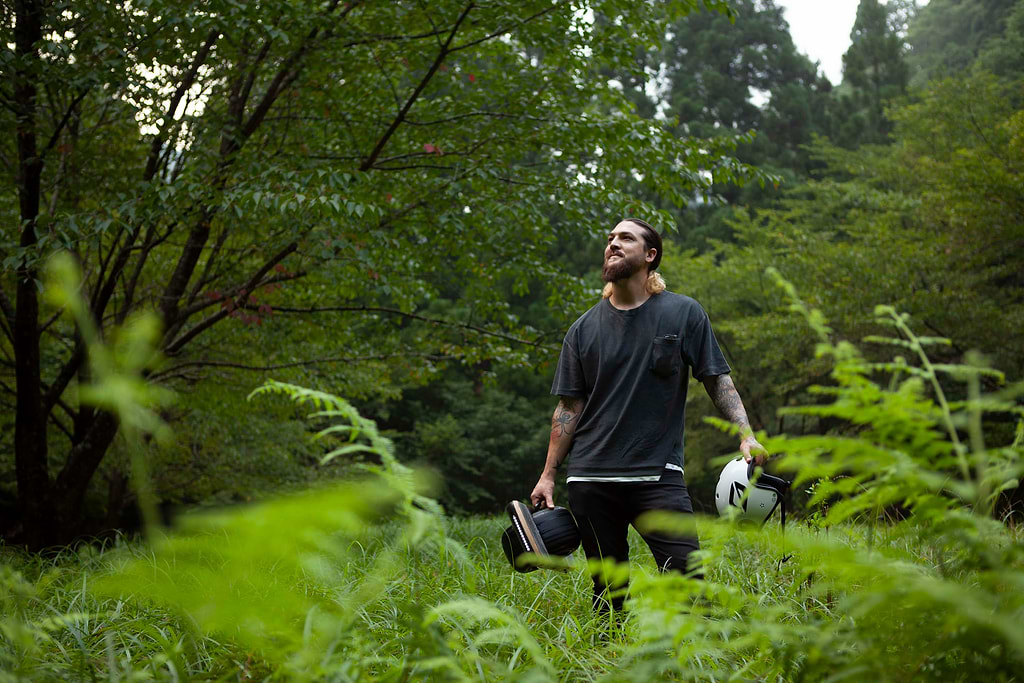 What's something in the kitchen that you've created that you're not sure has been done before?
My fried ice cream doughnuts, hot on the outside but cold in the inside. This picture is our newest creation. It's a Hokkaido Pumpkin ice cream doughnut, flavor of a pumpkin pie.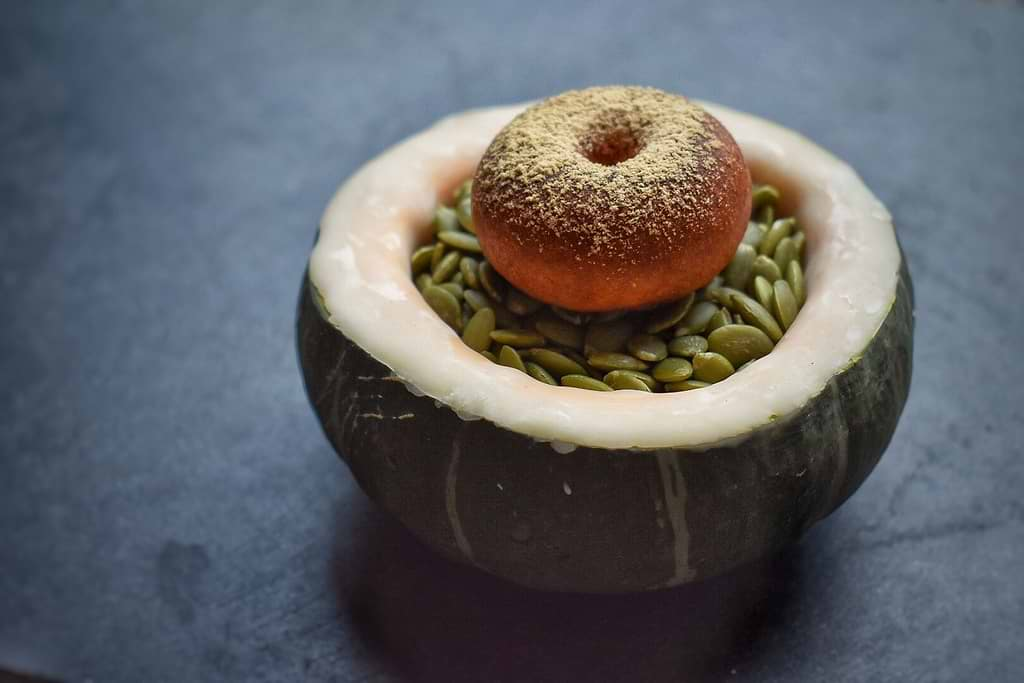 That brings us to our last question…Onewheel or automobile?
Onewheel for sure! I really don't use my car anymore; If I'm going somewhere, I'm on the Pint 80-percent of the time. The Onewheel is so much fun, honestly the best product I've ever purchased. 10 years from now, I think everyone is riding Onewheel.