This Bay Area volunteer group is elevating hope among the unhoused with direct action, community economics, and the "wheel of life."
Nobody has everything, but everybody has something.
That's the sentiment behind Meals on Onewheels, a direct action movement that's currently Onewheeling around the San Francisco Bay Area, feeding and supplying thousands of unhoused neighbors through a model of community economics. The project, now supported by a network of hundreds of donors and businesses from all over the world, pools resources among its volunteers to provide for underserved members of its community. Together, they've fed more than 6,000 people in six different cities, delivering a massive impact that stems from humble beginnings. And they're using Onewheel as their driving force, literally.
"It all started with peanut butter sandwiches," says cofounder Mike Sierra, the ringleader behind Meals on Onewheels. "The goal was to feed 100 people."
In 2014, long before he started Onewheeling, Sierra was living in the Mission District and bearing witness to an onslaught of troubling issues within his community. Streets plagued with hypergentrification, gang injunction, food insecurity, and an increasing number of unhoused neighbors became too much for him to stand by and observe.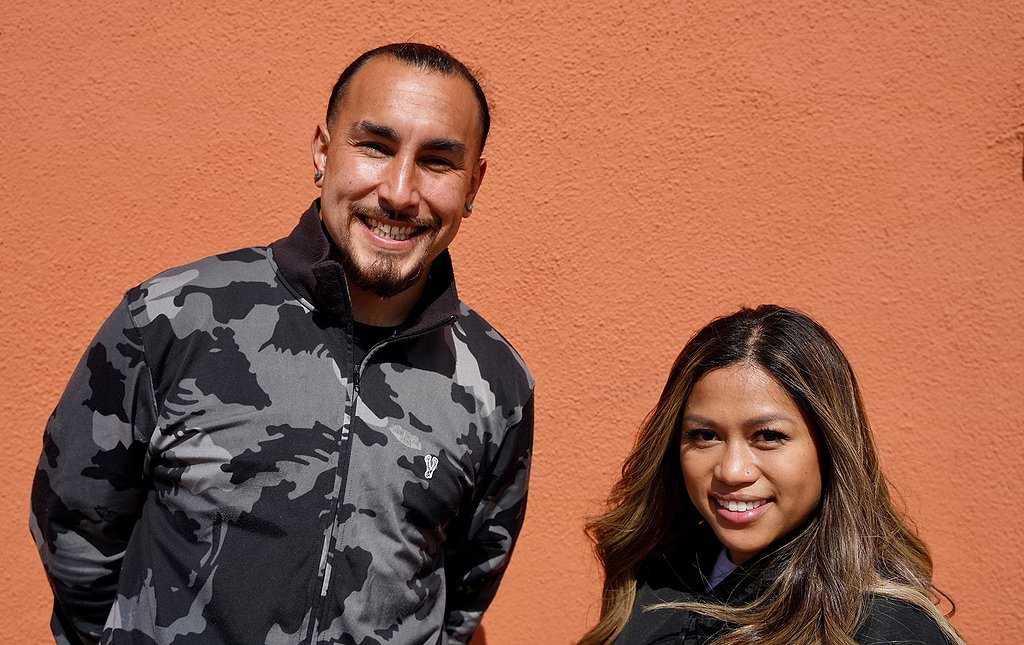 Mike Sierra and Evelyn Caday founders of Meals on Onewheels on grassroots people power, and Onewheels.
"My community needed help," Sierra says. "I didn't have the means to fix it myself, so I started sharing the stories online to engage other people's resources. I set up a GoFundMe and within an hour we were completely funded. The vision came to life."
In its early stages, the operation was known as SF Homeless Outreach Project (SFHOP), and consisted of 10 to 15 volunteers hosting food events around the Mission. On the day of each event, they prepared food and supplies in Sierra's grandma's kitchen, or at the local churches and schools, bagging up individual resource packages, penning positive affirmations on the exterior, and cruising around the neighborhood by foot or on bikes to distribute meals among their unhoused community members.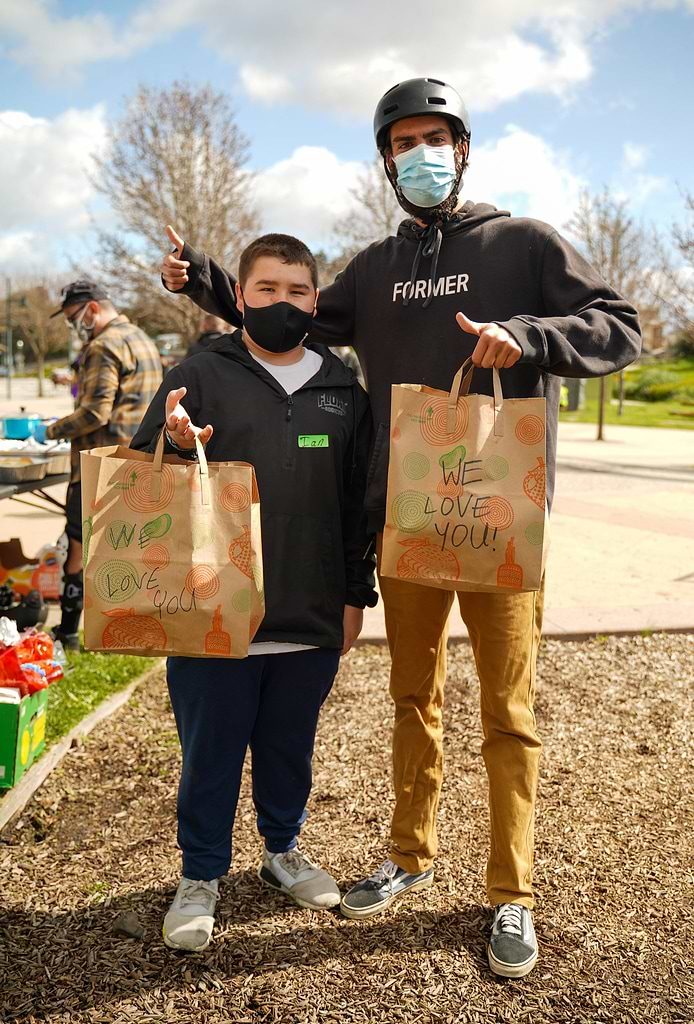 Over the years the project grew, attracting new volunteers with different resources and expanding into surrounding areas. Sierra and his cohorts let the needs of their community guide them, and as their resources expanded, so did the project's scope.
"Community economics makes it a collaborative effort," says Sierra. "We created an outlet where volunteers can engage to help meet the needs of the street."
Before long the outfit adopted the name Myriad, meaning "one of many," a nod to their tact of pooling resources to provide more variety in their outreach. Simultaneously, in 2019 Sierra got himself a Onewheel, and engaged himself in an entirely separate network—the Onewheel network.
On his first mega ride through the hilly streets of San Francisco, Sierra met Evelyn Caday, a videographer with a background in business and childcare. He invited Caday to film one of his outreach events. She came equipped with her camera, and a fresh set of ideas.
"I saw what was happening at Mike's event; there was so much good being done for a lot of people," says Caday. "It seemed like, with a few logistical upgrades, the project could really expand. I asked Mike, 'Why not deliver the products using Onewheel?"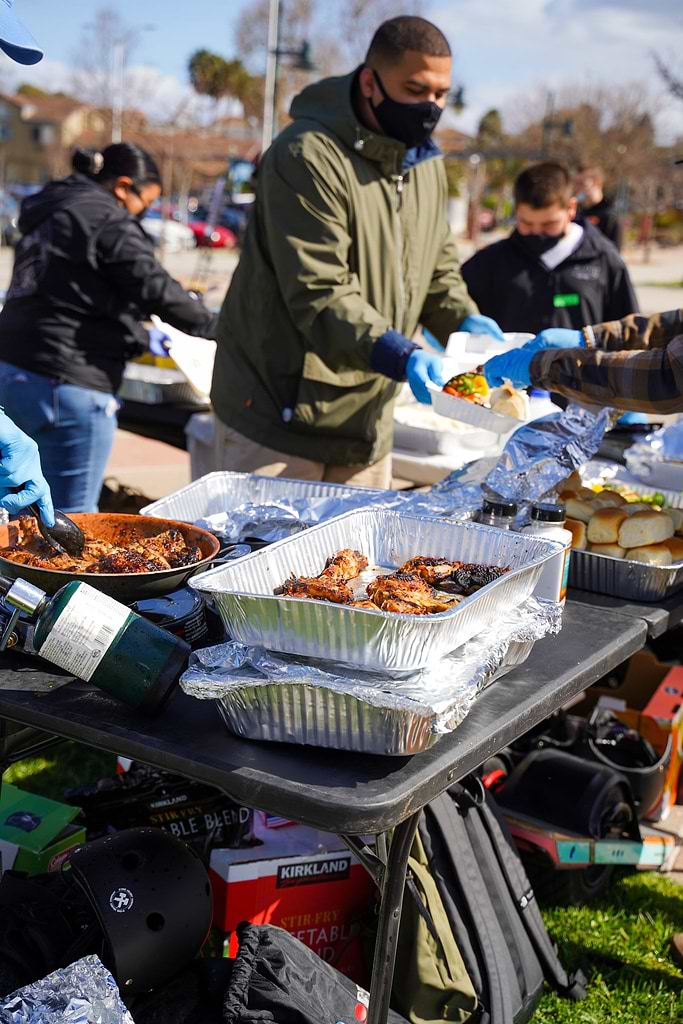 The duo integrated Onewheel into their outreach strategy at the next event, attracting a new contingent of Onewheeling volunteers and increasing the operation's efficiency.
"Onewheels cut down distribution time 10-fold," says Sierra. "The growing network and the efficiency of transportation allowed us to get a full day's work done in much less time. It opened a ton of doors."
With Caday onboard to manage the project's media presence, the movement garnered the attention of Onewheel and other local businesses, and soon their network evolved to include more outfits with existing infrastructures and expansive resources.
"I tagged Onewheel on Instagram with every post," says Caday. "One day they messaged us back. They loved what we were doing and wanted to get involved."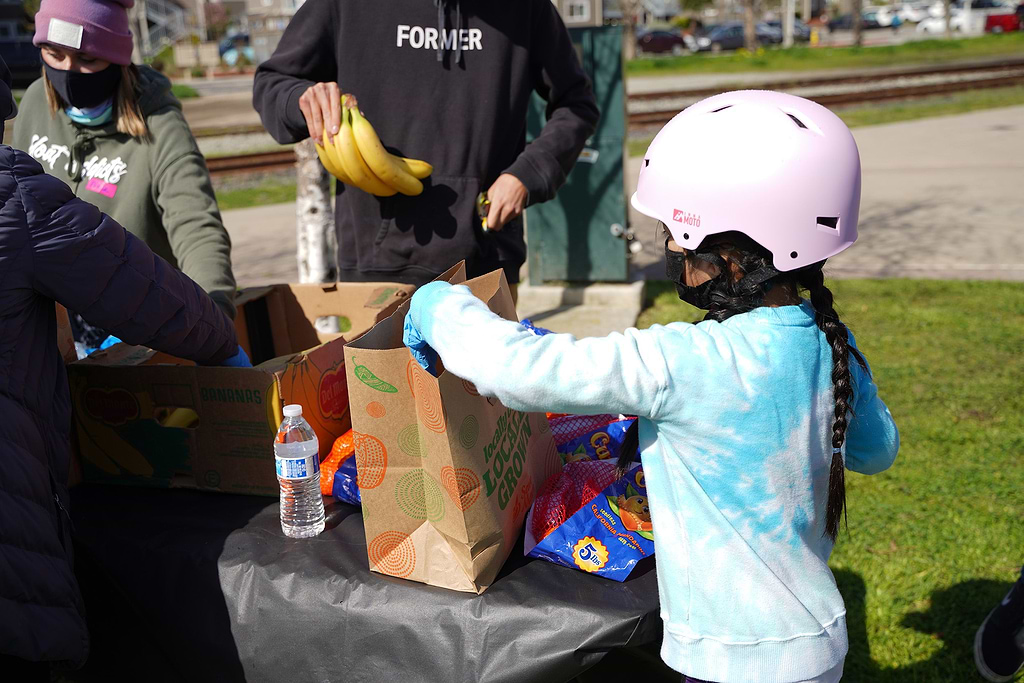 "Onewheel's support gave us notoriety with a lot of vendors," says Sierra. "Now we have businesses donating supplies for our volunteers as well as the unhoused neighbors. Restaurants are helping make the food. It creates a symbiotic system that benefits everyone, and Onewheel is at the hub. People call it, 'the wheel of life.'"
Myriad's network expanded to include multiple enterprises with a vast array of resources, and in November of 2020, the organizers collaborated to create a new project—Meals on Onewheels—a joint venture between local Onewheel groups the Float Addicts, Wheel Area, Anti X Movement and Myriad.
"The merger kicked off a six-city tour," says Sierra. "In less than a year Meals on Onewheels fed 1,400 people."
Today at any given Meals on Onewheels event, you'll find 100 volunteers prepping and distributing food via dozens of Onewheels. You'll see a fleet of riders combing the streets and passing out "We love you" bags to hundreds of unhoused neighbors. You'll see restaurants gaining new customers by helping produce the food, businesses attracting new patrons through fundraising events affiliated with the movement, and 300 individuals less hungry, more hopeful. At the front of the pack, you'll see Sierra leading the charge and Caday documenting it all to share with thousands more on social media.
"It's a blessing to see how the project constantly evolves," says Sierra. "We're now in the process of applying for our 501(c)3 nonprofit designation to make it official. Next, we're going to do the same six-city route again and add 100 more meals to each event. After that we're going to work our way down to SoCal, and it's not stopping there. This thing is going global."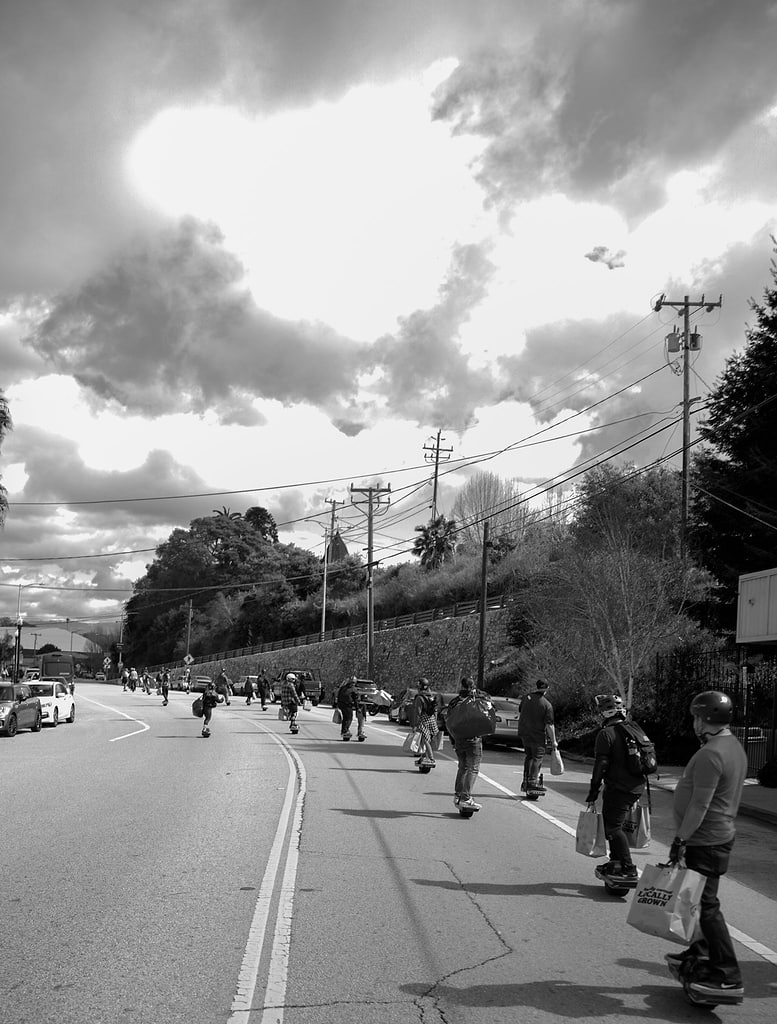 Despite the movement's rapid evolution, and the success it's achieved in direct action and community economics, the mission, and rewards, remain unchanged.
"I get transformed in the service on both ends, working with the volunteers as well as our unhoused neighbors," says Sierra. "Yes we're giving food and resources to people, but the real blessing is the service—going out and doing what we can with what we have for our neighbors. We're serving hope, that's the real mission here."
Meals on Onewheels needs your help to grow, and Mike and Eve appreciate your support! Drop them a line, donate, or help spread the word using these online resources:
Visit the Meals on Onewheels website
Follow them on social media @mealsononewheels
Donate to Meals on Onewheels
Engage in the Myriad Outreach Project