Main Power Push Button Switch
Onewheel Pint is powered ON and OFF by the pushbutton switch on the side of your Onewheel Pint. Always make sure your Onewheel Pint is on the ground in the ready-to-ride position before switching it "ON." Always turn your Onewheel Pint "OFF" when charging, storing or carrying it.
WARNING: Never pick up your Onewheel Pint when the switch is in the "ON" position since the wheel may spin, thus causing a safety hazard.
CAUTION: Do not press the rider-detection area section of the footpad while powering on your Onewheel Pint or it will not operate.
TIP Turning on your Onewheel Pint while it is not on the ground will cause an error.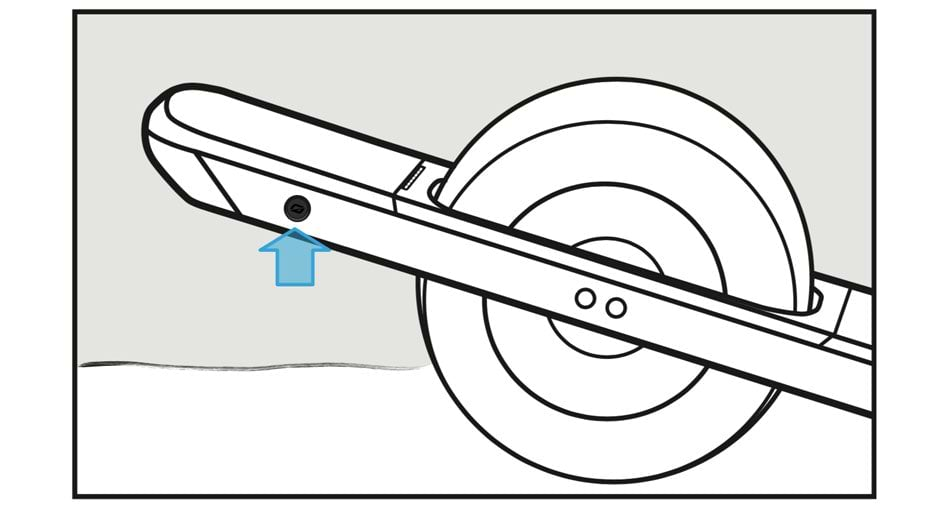 Lightbar
LED LIGHTBAR INDICATOR The Lightbar directly behind the front footpad is the status indicator for Onewheel Pint. The Lightbar will indicate battery status, error codes and other information for your Onewheel Pint.
NORMAL OPERATION While powered on, the Lightbar will show a bar graph of your battery state of charge, starting on the left hand side. The Lightbar also indicates footpad contact, SimplestopTM behavior, as well as errors and warnings. While riding, the Lightbar fades out so you can focus on the ride ahead. Slow down and the Lightbar comes back on.
CHARGING While charging, the Lightbar will pulse and act as a bar graph. When fully charged, it will turn off.
Decoding Your Onewheel+
The different blink codes, differentiated by the number of blinks in a row, may indicate different issues with your Onewheel Pint. Always count the blink code if one occurs. Sometimes you can solve the issue by charging the battery or by switching your Onewheel Pint OFF and then ON again. If you are still experiencing problems, please contact Onewheel customer support at 1-800-283-7943 or send an email to support@onewheel.com